Random Slot Canyon Slideshows
For those of you who don't know, I'm a Southwesterner born n' bred, and some of my absolute fave landscapes are red rock canyon lands. If you read the first book in my NM series (hint: "Land of Entrapment"), see if you notice the slot canyon reference. I derive endless hours of inspiration from visiting canyon lands and from just looking at photos of them.
And that's why I'm sharing some slideshows I found with you. Because there's just not enough beauty going around the world at the moment, and I think there's always time for a zen moment.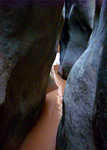 source
From americansoutwest.net:
Slot canyons, Escalante River (UT) slideshow
Holeman Canyon, Canyonlands National Park (UT)

Static photos, Cottonwood Wash, Capitol Reef (CO)
Static photos, Buckskin Gulch, Paria River (UT)
ommmmmmmm…