HI, friends!
Hope everybody is doing well (or as well as can be). Here are 10 things to maybe get your mind off the hellscape all over the place. There can still be good in the world. Sometimes you just have to look a little harder.
1. Okay, so over at BoredPanda there is a super-cool article with photos about a French artist who creates 3-D art on icky/boring urban structures. Pierrot (Scaf) does some awesome work. Check it out. Another cool element he incorporates into his art before he photographs it is he includes himself in the piece, so it looks like he's part of the art.
2. And speaking or art, during the lockdown, people found interesting ways to amuse themselves. Including recreating famous artworks at home. LOL See some here. The idea may have originated from a Tweet sent out by the Getty Museum asking people to do it using household items and then post the photos on Getty's Twitter thread. Like this one.
3. Parkour. I dig watching people do this. If you're not familiar, parkour is the sport of moving rapidly through an area — typically urban — negotiating obstacles by running, climbing and jumping. Suffolk-born Shane Griffin is a BOSS at this. Check this link for some background on him (includes some vids, too). And here's a vid of Griffin in action:
4. Otters. OMG WHO DOESN'T LOVE OTTERS. You can find great photos and vids on the Twitter account @In_Otter_News_2. And the person who runs that account also created an otter meme library last year. Find it here.
5. Carmilla, the web series. Let's be real, here. I binged this web series when I discovered it a few years back (OMG WHY DID IT TAKE ME SO LONG TO FIND IT????). It's a lesbian vampire web series loosely based on the 1872 gothic novella of the same name by Irish author Joseph Sheridan Le Fanu (find it at Project Gutenberg). It pre-dated Bram Stoker's Dracula by 26 years, y'all. The novella is told from the POV of a young woman preyed upon by a female vampire. Anyhoo, the Canadian web series of Carmilla launched in 2014. Episodes average 2-5 minutes (some longer, some shorter) and they're told from the POV of college student Laura Hollis (played by Elise Bauman) who is a vlogger wanting to document her college experience. So it's told in single-frame format, but it's really well done. Laura's roommate — Carmilla (played by Natasha Negovanlis) — turns out to be a vampire. There are 3 seasons and a short "zero" season which is kind of a prequel. Here's the first episode:
6. And how about some gaming? June's Journey by Wooga is a hidden object game that has you solving a mystery during the 1920s. Romance! Intrigue! Available on apps for all the devices you could need. Find out more over at Wooga.
7. Or maybe board games are more your thing. Try this cool historic-ish train board game, Ticket to Ride, in which you and other players are collecting cards to build your cross-country railroad routes.
8. And since Halloween is on the way, howsabout checking out some horror/spooky podcasts? Find a short list here. One of those is "And That's Why We Drink," in which co-hosts Em and Christine bring you a true crime story and a paranormal spooky story.
9. Candles. Y'all, let's make some candles! If you've got a few extra bucks, maybe invest in a DIY candle-making kit and create some cool candles for your house, your friends, your family, or whatever. I'm partial to soy candles (they tend to burn cleaner), so here's a kit you might dig. Maybe make some spoooooky Halloween candles!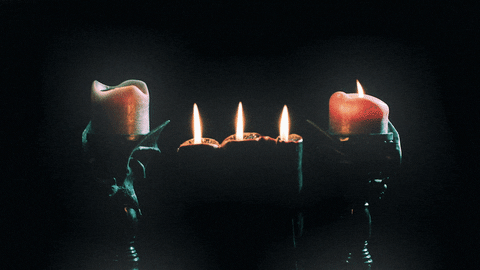 10. Libraries. They always have programs going on and so many other things. My local library has a jigsaw puzzle collection where you go and take a puzzle and bring it back when you're done. My library also allows you access to Kanopy, a movie and documentary platform for public libraries. I can watch up to 7 movies/documentaries a month. Just create an account with your library card and start streaming! I've got Kanopy set up on my Roku and I've watched several documentaries already. Also, many libraries have access to Overdrive, the ebook lending service. Download the app, create an account with your library card, and boom. Point being, libraries are a God(dess)send. Treasure them, support them, and support librarians, too! Run for the library board and help keep your libraries going! Get involved in civic awesomeness!
All right, friends. There you go. 10 things to get your mind off the cray (hopefully). If you know of something cool/awesome, just leave a comment to let us all know.
Cheers!